Pet Door? Now There's an Alternative
October 07, 2019
by Renee Vanderbilt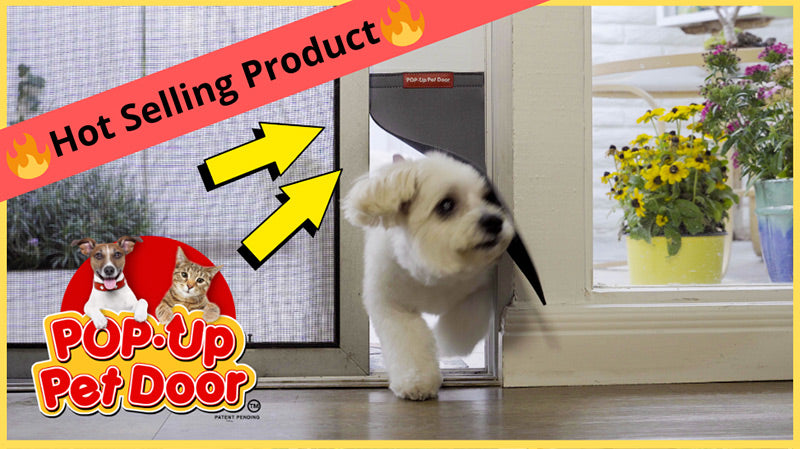 Have you ever needed to use the restroom and been unable to enter, like finishing that large coffee and finding out that someone has locked to door – for a long…long time? Your dog or cat may feel likewise when the door to the outside is closed. Panic. That's when a pet door comes in handy. However, the downsides of a permanent or semi-permanent door can outweigh its advantages.
Traditional pet doors vary from those requiring the installer to cut a whole in the wall to semi-permanent doors requiring hardware. Many of these pet doors require certain parameters, such a checking the door thickness, and making sure the material is strong enough to support the pet door. Pet doors that are not self-framing would require additional steps during the pet door installation. Costly automatic/electronic doors sometimes lack accuracy. Some doors are not self-framing and require additional steps during the pet door installation. And, if your door has a manufacturer's warranty, installing pet doors in it can void the warranty. Not to mention, some HOAs prohibit permanently installed pet doors. Lastly, traditional pet doors are expensive, costing up to $200, and once they are installed, they cannot be easily removed.
The Pop Up Pet Door was created to provide a non-permanent and portable solution for those not wishing to punch a hole in their walls, and for those who do not want to use a drill, tape measure, jigsaw, screws, or caulk to install their door. The Pop Up Pet Door uses a lightweight insulation plastic and flap that can be folded and easily installed without the need for any hardware, using military grade Velcro and slits to insert the door. It can be easily transferred from room to room or place to place, such as traveling with furry friends to pet friendly hotels, and while visiting with friends and relatives. It is not intended as a security door; however, a bar can be purchased to secure the sliding glass door.
Another advantage of the lightweight Pop Up Pet Door is that it can be placed on the glass portion of the sliding glass door, or the screen portion. This way, the outer glass door can be closed and locked while leaving the Pop Up Pet Door on the screen portion of the door. It gives your pet more freedom to be active inside and outside the home, which is great for reducing boredom and stress. Now, there is an alternative to the established pet doors in the marketplace, and for those pets who worry about being prevented from going outside to do their business, the Pop Up Pet Door is a great solution.